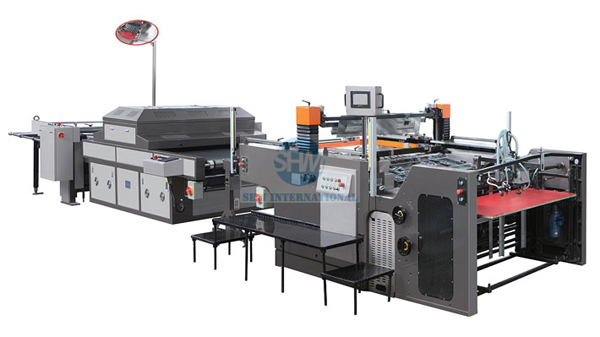 JB-720A/800A/1020A/1050A Full Automatic Stop Cylinder Screen Press
INTRODUCTIONS:
The machine adopts classical stop cylinder technology with the advantages such as: accurate and steady paper locating, high precision printing, high speed, low noise, high degree of automation and so on. It is suitable to ceramic and glass paper printing, electron industry (film switch, flexible circuitry, meter panel, mobile telephone), advertisement, pack printing, brand, textile transfer, special craft etc.
MAIN FEATURES:
1. Classical stop cylinder technology ensures the front side of printing can be sent to cylinder gripper accurately.
2. The magic eye equipped on the cylinder gripper and pull guide can supervise whether the printing is sent to the correct point.
3. The bottom of convey table with vacuum absorption assembled with the pull and press mechanism ensures printing transported smoothly.
4. Two cams control the movement of squeegee and ink-return blade separately. The squeegee is equipped with pneumatic pressure system so that the definition of printing graphics can be higher and ink layer can be more even.
5. The screen frame rack can be pulled out so that the printing register or feeding adjustment can be easy, the cleaning of cylinder and screen frame can be more safety and faster. The ink holding unit ensures the ink is not dropped on the cylinder.
6. Main transmission and main parts can be lubricated automatically, which can prolong working precision and machine life effectively.
7. The machine is controlled by PLC and touch screen or button system so that the operating will be easy and automatically.
MAIN SPECIFICATIONS:
| | | |
| --- | --- | --- |
| Model | JB-720A | JB-800A |
| Max paper size | 720 x 520mm | 800 x 610mm |
| Min paper size | 350 x 270mm | 350 x 270mm |
| Max printing size | 720 x 510mm | 800 x 600mm |
| Paper thickness | 108-400gsm | 108-400gsm |
| Border | ≤10mm | ≤10mm |
| Printing speed | 1000-3600pcs/h | 1000-3300pcs/h |
| Power | 3P 380V 50Hz 8.89kW | 3P 380V 50Hz 8.89kW |
| Weight | 3500kg | 4000kg |
| Machine dimensions | 4050 x 2240 x 1680mm | 4350 x 2580 x 1680mm |
| | | |
| --- | --- | --- |
| Model | JB-1020A | JB-1050A |
| Max paper size | 1020 x 720mm | 1050 x 750mm |
| Min paper size | 560 x 350mm | 560 x 350mm |
| Max printing size | 1020 x 710mm | 1050 x 740mm |
| Paper thickness | 120-400gsm | 92-420gsm |
| Border | ≤10mm | ≤10mm |
| Printing speed | 1000-3000pcs/h | 500-4000pcs/h |
| Power | 3P 380V 50Hz 14.64kW | 3P 380V 50Hz 11kW |
| Weight | 5000kg | 5600kg |
| Machine dimensions | 4650 x 2800 x 1680mm | 4750 x 3020 x 1630mm |