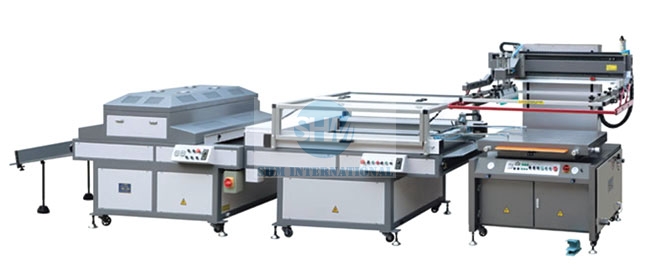 JB Series 3/4 Automatic Screen Press
MAIN FEATURES:
1. The machine is composed of printing part,take-off set machine and UV dryer. It is a 3/4 automatic line which the printing stock is fed by hand、taken off automatically.
2. After the printing finished and the printing arm put up, the mechanism arm of take off set machine will extend into between the arm and the plane, suck and pull out the printing stock, then send it to next working procedure(drying,solidify or collection).
3. It's not only can save labor, but also improve the working efficiency of the machine.
4. It's suitable to the flexible material, such as paper product.
MAIN SPECIFICATIONS:
| | | | |
| --- | --- | --- | --- |
| Model | JB-750IIC | JB-960IIC | JB-1280IIC |
| Take-off set | JB-800CL | JB-800CL | JB-900CL |
| Screen printing unit | JB750 II | JB-960 II | JB-1280 II |
| UV part | JB-800B | JB-800B | JB-900B |
| Max Speed | 1100pcs/h | 1000pcs/h | 900pcs/h |
| Printing size | 700 x 500mm | 900 x 600mm | 1200 x 800mm |
| Max paper thickness | 500g/m2 | 500g/m2 | 500g/m2 |
| Power | 15.24kW | 16.49kW | 16.89kW |
| Weight | 1400kg | 1530kg | 1650kg |
| Machine dimensions | 6600x1050x1760mm | 6800x1180x1760mm | 7100x1400x1850mm |
MACHINE RUNNING VIDEO: