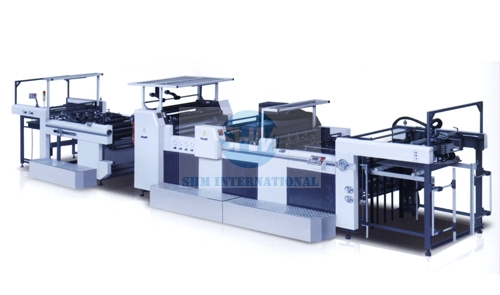 YZFM Series Automatic pre-coated film laminating machine
MAIN FEATURES:
1.Using converter to control speed, running steady.
2.Due to the machine controlled by electric appliances, so it only needs one operator to operate.
3.The main machine uses oil to keep constant temperature. So the temperature of heating roller's surface is average.
4.Φ380mm large diameter mirror heating roller, temperature lasting not easily erosion, production speed is high.
5.Main pressure roller uses high temperature resistant material, quality is stable.
6.Film Separating and punching to be equipped.
7.Compounded heating roller adopts polishing technique, enhance the quality of the products.
8.The main pressure roller can be the roller with oil heating function(this provide automatic temperature control unit)
MAIN SPECIFICATIONS:
| | | | |
| --- | --- | --- | --- |
| Model | YZFM 1040 | YZFM 920 | YZFM 780 |
| Max. sheet size | 1040×1040mm | 920×1040mm | 780×1040mm |
| Min. sheet size | 325×325mm | 325×325mm | 355×355mm |
| Paper thickness | 105-450g/m2 | 105-450g/m2 | 105-450g/m2 |
| Height of feeding pile | 1050mm | 950mm | 950mm |
| Max. laminating width | 1020mm | 920mm | 780mm |
| Max. laminating speed | 10-40m/min | 10-50m/min | 10-50m/min |
| Laminating temperature | 85íŠ-125íŠ | 85íŠ-125íŠ | 85íŠ-125íŠ |
| Working pressure | 5-20MPA | 5-20MPA | 5-20MPA |
| Total power | 32KW | 29.7KW | 29.7KW |
| Machine weight: | 3000KG | 2400KG | 2100KG |
| Dimension | 9500×2400×2200mm | 7100×1700×2000mm | 7100×1600×2000mm |