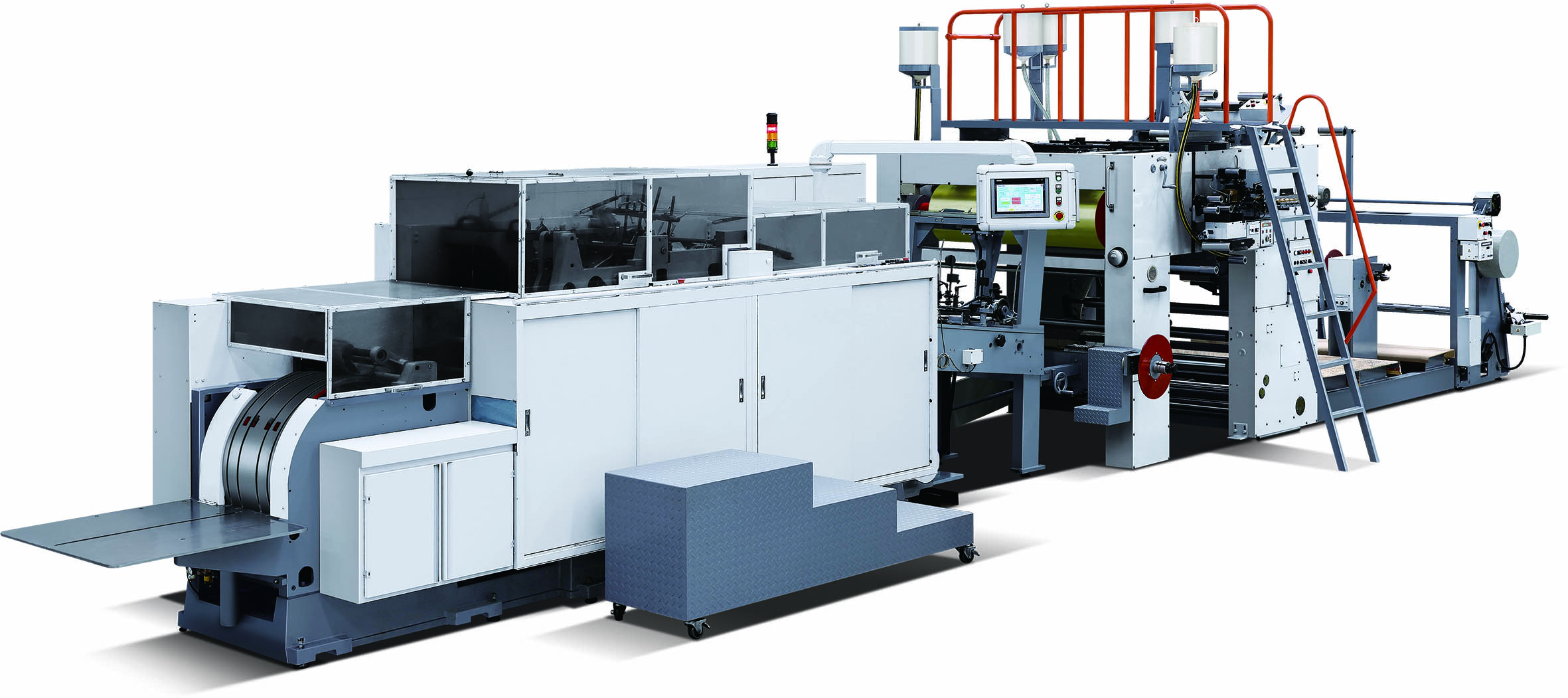 ZD-QFB14 Fully Auto Roll-fed Paper Bag Machine (Flat Handle)
INTRODUCTION:
This machine is designed to manufacture square bottom paper bags with flat-rope handles from paper roll, paper patch roll and flat paper rope, and it is an ideal equipment for producing paper handbags fast. By implementing steps including handle making, handle application, tube forming, tube cutting and bottom forming within a fully automatic process, this machine can effectively save labor costs. Distinct flat-rope handle making process and special bag counting function, greatly improve packing efficiency of finished paper bags. Thanks to perfect technologies and fast production speed, this machine can produce paper handbags with high quality in many different forms, which are especially suitable for food and clothing industries.
MAIN FEATURE:
1. The bottom forming hub of ZD-QFB14 makes 5 paper bags by 1 round, which brings apparently higher speed than other similar traditional models.
2. By directly making flat-rope handles on paper web, customers can not only no longer rely on the traditional external hand making machine, but also be able to save 50% patch paper. What's more, this design brings more efficient packaging and shipping for the finished paper bags.
MAIN SPECIFICATION:
| | |
| --- | --- |
| Paper roll width | 570-1170mm |
| Max paper roll diameter | 1200mm |
| Material core diameter | 76mm |
| Paper thickness | 80-150gsm |
| Bag body width | 200 -360mm |
| Paper tube length | 350-650mm |
| Bag bottom size | 80-200mm |
| Flat handle rope width | 75mm |
| Flat handle rope width | 13mm |
| Paper rope roll width | 101mm |
| Paper rope roll diameter | 800mm |
| Paper rope thickness | 70-100gsm |
| Handle patch length | 160mm |
| Handle patch width | 50mm |
| Paper patch roll diameter | 1200mm |
| Paper patch roll width | 160mm |
| Paper patch thickness | 80-110gsm |
| Max speed | 140 bags/min |
| Power | 20kW |
| Weight | 20000kg |
| Dimensions (L x W x H) | 16000 x 3000 x 2500mm |