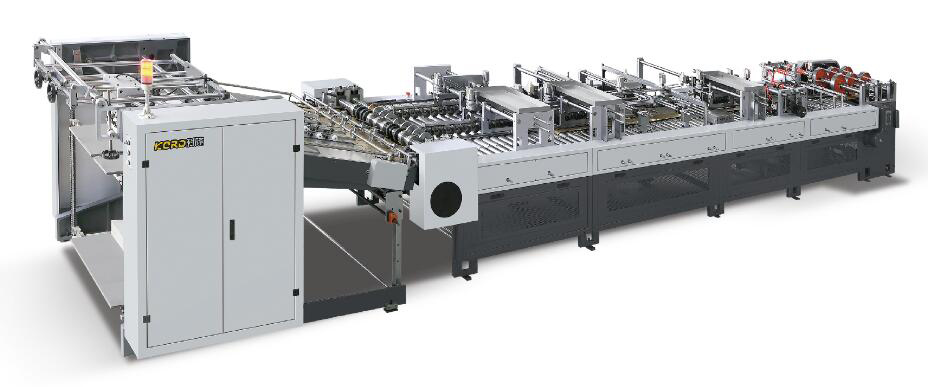 KL-700B/1040B/1240B Handbag Forming Machine
MAIN FEATURES:
1. Brown paper, copperplate paper,white-plate paper,white paperboard and gray paperboard etc (including laminting paper) is available on the machine.
2. The machine feeds die-cut single-sheet paper to make bag tube.
3. It features a continuous function of automatic paper delivery (by feeder),line aligning(by front guide and side guide),gluing(by water-soluble glue box),automatic tube folding, impressing(by steel rollers)and bag tube output.
4. It adopts water-soluble glue which has no harm to the environment. (Equipped with hot-melt spray gun system can be optional.)
5. The touch screen operation and adjustable speed function provide high precision and rapid speed to this machine.
6. This machine can make handbags with different specifications and is an ideal equipment of manufacturing high-standard handbag.
WORK PROCESS:

MAIN SPECIFICATIONS:
Model

KL700B

KL1040B

KL1240B

Max. paper feeding size (W x L)

700 x 440mm

1040 x 600mm

1240 x 600mm

Min. paper feeding size (W x L)

320 x 210mm

480 x 290mm

600 x 380mm

Paper bag width

110-220mm

180-350mm

260-450mm

Paper tube length

210-440mm

290-600mm

380-600mm

Paper bag bottom/gusset

50-130mm

60-150mm

80-180mm

Paper weight range

100-350g

100-350g

120-350g

Max. speed

100pcs/min

Glue type

Hot melt adhesive & Water-soluble cold glue

Total power

8kw

10kw

12kW

Total weight

4.5T

5.5T

6.5T

Overall dimension£¨L x W x H£©

7.5 x 1.7 x 1.6M

9 x 1.9 x 1.6M

9.5 x 2 x 1.6M