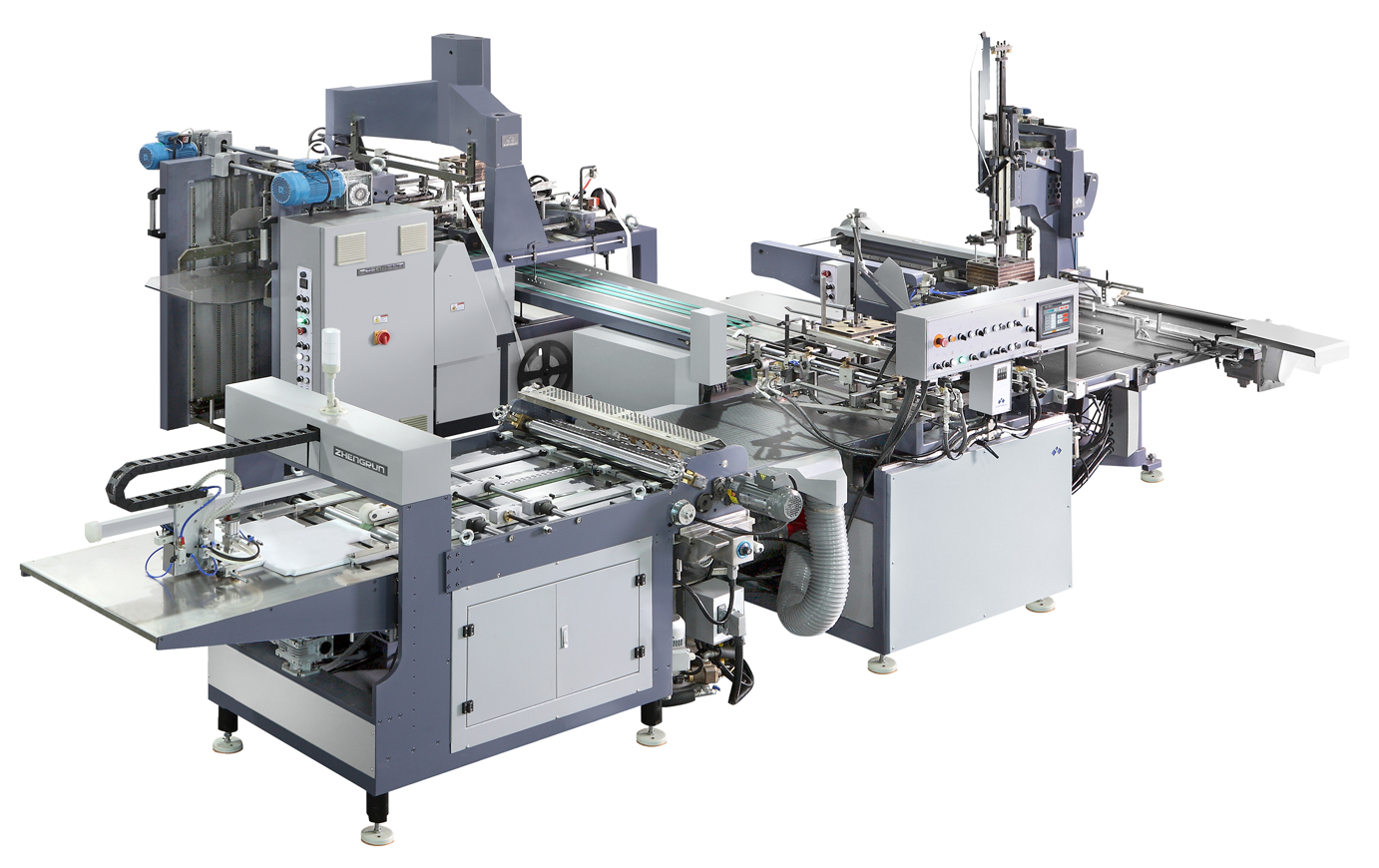 RB420 Automatic Rigid Box Maker
MAIN FEATURES:
1. The feeder in this machine adopts back-push feeding system, which is controlled pneumatically, and its structure is simple and reasonable.
2. The width between stacker and feeding table is adjusted concentrically in the center. The operation is very easy without tolerance.
3. New designed copper scraper cooperates with the roller more compactly, effectively avoiding paper winding. And the copper scraper is more durable.
4. Adopt imported ultrasonic double paper tester, featuring in simple operation, which can keep two pieces paper from entering into the machine at the same time.
5. Automatic circulation, mixing and gluing system for hot-melting glue. (Optional device: glue viscosity meter)
6. Hot-melting paper tape automatic conveying, cutting, and finish pasting the inner box quad stayer (four angles) of cardboard in one process.
7. The vacuum suction fan under the conveyer belt can keep the paper from deviating.
8. The paper and cardboard inner box employs hydraulic rectifying device to spot correctly.
9. Conveyor belt employs automatic clean system, which makes belt maintenance easy.
10. The wrapper can continually wrap, fold ears and paper sides and form in one process.
11. The whole machine employs PLC, photoelectric tracking system and HMI to automatically forming boxes in one process.
12. It can automatically diagnose the troubles and alarm accordingly.
MAIN SPECIFICATIONS:

PAPER CARDBOARD FORMER BOX
The corresponding relationship between the parameters:
W+2H-4T≤C(Max) L+2H-4T≤D(Max)
A(Min)≤W+2H+2T+2R≤A(Max) B(Min)≤L+2H+2T+2R≤B(Max)
Paper size(A×B)

Amin

100mm

Amax

580mm

Bmin

200mm

Bmax

800mm

Paper thickness

100-200g/m2

Cardboard thickness

1~3mm

Finished product (box) size (L×W×H)

Min

100×50×10mm

Max

420×300×70mm

Folded paper size (R)

Rmin

10mm

Rmax

35mm

Precision

±0.50mm

Max production speed

35sheets/min

Motor power

10kw/380v 3phase

Heater power

7.8kw

Air Supply

10L/min 0.6Mpa

Machine weight

4500kg

Machine dimension

L7200×W4100×H2800mm
Remarkú║
1. The max and mini sizes of the boxes are subjected to those of the paper and the quality of the paper.
2. The production capacity is 35 boxes per minute. But the speed of the machine depends on the sizes of the boxes.
3. We don't provide air compressor.