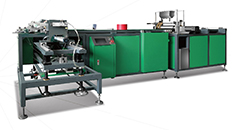 RT300/RT300A Semi Automatic Round Box Making Machine
INTRODUCTIONS:
The machine applies the rubber roll and dies to coordinate with roll paper,pressing while rolling to completely avoid bubbles and paper wrinkling.
MAIN FEATURES:
1.Reduce manpower
The machine only needs two people to operate.The speed is 5~8pcs/min(the box size will affect the speed.
2.It is convenient for installation.
The machine applies 220V power,so it is covenient foe connecting to the power.In addition,the machine applies the entire frame to aviod from the complicated installation and debugging process.
3.Reduce glue cleaning workload
This machine can be lined with the gluing unit.After equipped with the gluing unit,the paper has no need to touch hands from gluing to the final forming,so as to effectively avoid from pasting glue to the outside of box.This doesn't only improve the product quality,but also can reduce glue on the hand.
4.Large range suitable product size
The machine can be suitable to large range product size.The box diameter can be from 70mm to 300mm,which incledes the large-proportion round box size in the market.We also can make special machine accroding to customer special demands.
MAIN SPECIFICATIONS:
| | | |
| --- | --- | --- |
| Model | RT300(without gluing unit) | RT300A(with gluing unit) |
| Max diameter of round box | 300mm | 300mm |
| Min diameter of round box | 70mm | 70mm |
| Max height of round box | 300mm | 300mm |
| Min height of round box | 40mm | 40mm |
| Speed | 4~6pcs/min | 5~8pcs/min |
| Air | 0.5~0.7Mpa | 0.5~0.7Mpa |
| Power | 220V 50Hz/1600W | 220V 50Hz/1800W |
| Weight | 400kg | 550kg |
| Dimension(LxWxH) | 2500x1500x1150mm | 3700x1500x1350mm |