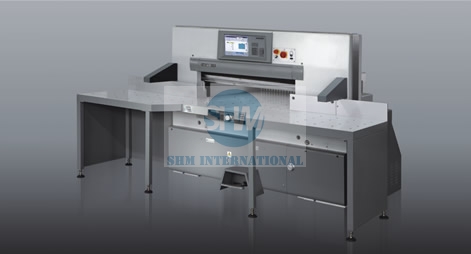 F SERIES COMPUTERIZED PAPER CUTTING MACHINE
INTRODUCTIONS:
This model adopts Japan AC digit servo control system,15 inches colorful liquid crystal display screen of resolution rate is 0.01mm, has self-diagnostic function of troubles and displays the operating pattern, It has 100 program units, more than 10000 different cutting position, dynamic cutting display , running situation, dynamic follow-up. The max paper-pushing speed is 5-18m/min, it adopts stronger computer operating system. It can memorize store the storage time can be up to 300000 hours above. It has self maintenance to the operating system. Adopt Italy hydraulic components, Germany Japan and Korea electric components. Taiwan ball lead screw and linear guide-rail are used. PLC controller can monitor all the electrical and mechanical section. Its key parts adopt imported bearing of low maintenance.
MAIN FEATURES:
1. Ball lead screw and linear guide-rail makes paper impeller run smooth, low noise, accurate positioning, enhance the cutting precision and speed greatly, prolong the service lift of paper cutter.
2. The working tables are all chrome-plated and equipped with air balls which makes paper-pushing easily and rusty-proof. Large side working table (1000 x 800) is optional.
3. IR photoelectric protection, buttons by two hands safety devices.
4. Safety device for knife bed, overloading protection for cutting, automatic return safety device.
5. Imported hydraulic components are adopted in hydraulic system, the pressure can be adjusted. The paper is pressed twice by pressure-increased system.
6. Mechanical assistance device for knife replacement makes knife replaced quickly and safely.
7. Equipped with the optical knife alignment to make cutting more convenient.
8. PLC control system.
9. Ejecting device for knife bar.
10. Flat worm speed reducer transmission.
11. Inside electronic knife locker to make the cutting more safety and stable.
12. Multination language operation interface.
13. Carry on the block programming operation through the figures and diagrams operation manual.
14. Safety device for overloading cutting.
15. Safety lock for press bar.
MAIN SPECIFICATIONS:
| | | | |
| --- | --- | --- | --- |
| Model | 92F | 115F | 130F |
| Cutting width | 0.92M | 1.15M | 1.3M |
| Max cutting depth | 0.93M | 1.15M | 1.3M |
| Total working table length | 1.98M | 2.26M | 2.41M |
| Cutting speed | 45times/min | 45times/min | 45times/min |
| Max pressure | 35000N | 40000N | 40000N |
| Machine weight | 2700kg | 4000kg | 3900kg |
| Machine dimensions | 2.25 x 1.4 x 1.95M | 2.55 x 1.6 x 2.15M | 2.6 x 1.53 x 1.95M |
| | | | |
| --- | --- | --- | --- |
| Model | 137F | 155F | 166F |
| Cutting width | 1.37M | 1.55M | 1.66M |
| Max cutting depth | 1.45M | 1.55M | 1.66M |
| Total working table length | 2.59M | 2.8M | 2.83M |
| Cutting speed | 45times/min | 42times/min | 42times/min |
| Max pressure | 45000N | 55000N | 60000N |
| Machine weight | 4500kg | 5200kg | 5500kg |
| Machine dimensions | 2.8 x 1.6 x 2.15M | 2.96 x 1.65 x 2.15M | 3.15 x 1.6 x 2.15M |