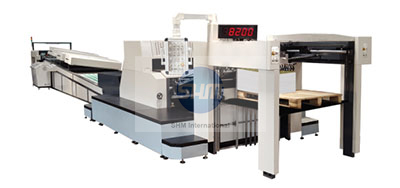 YX-1450 HIGH SPEED SPOT UV COATING MACHINE
INTRODUCTION:
YX-1450 high speed spot UV coating machine can applied in both water-based and oil-based products.
This machine uses rubber blanket and resin plate as panels,to process spot or global varnishing。
It is uniform for global varnishing and accurate for spot varnishing.It can be applied on varnishing words,figures on maganizes,books,advertisments,and such high-end presswork.
It can enhance the quality of products and add a sense of beauty.The safety devices and humane interaction system can guarantee the easiness of operators' work.
Sheet size

Max.1100x1450mm

Min.460x350mm

Paper thickness

128-600g

Coating Size

Max.1060x1420mm

Working speed

Max.8000sheet/h

Power

65.3kw

Weight

14170kg

Dimension

16500x3500x1900mm