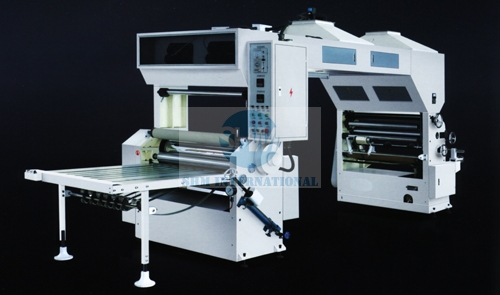 FM1000/1100 HIGH PRECISION AND MULTIPURPOSE LAMINATING MACHINE
MAIN FEATURES:
1.
The machine frame adopts high quality material. It is Provide with automatic temperature control unit.
2.
It is sealed oven of the infrared camp as hot source. It is equipped with the reverse scraper glue-even unit and automation glue-circulating system.
3.
Gluing and glue spreading adopts variable frequency speed regulating with high accuracy and uniform coating of glue.
4.
It is equipped with automatic punching device which can effectively improve production efficiency.
5.
Compounded heating roller adopts polishing technique, improves the quality of the products.
6.
With hardness of 90 degrees of main pressure rubber roller can meet different quality paper compound requirements. This rubber roller adopts heat-resistant material, suitable for long time suitable for special high temperature requirements without film production. Special emboldening shaft head adopts the special steel by heat treatment not easily broken.
7.
Oil cylinder materials use high quality nodular casting parts, can load pressure working environment.
MAIN SPECIFICATIONS:
| | | |
| --- | --- | --- |
| Model | FM-1000 | FM-1100 |
| Width | Max.950mm | Max.1050mm |
| Pressure temperature | 30-120℃ | 30-120℃ |
| Pressure compound | 2-25MPa | 2-25MPa |
| Speed | 0-25m/min | 0-25m/min |
| Power | 30kw | 30kw |
| Weight | 3200kg | 3500kg |
| Dimension | 5920x1620x2090mm | 5920x1720x2090mm |