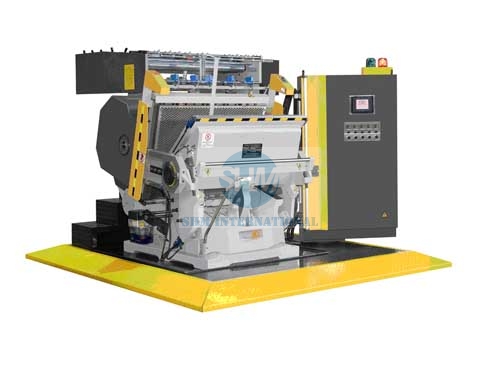 TYMC-1100H HOLOGRAM HOT FOIL STAMPING MACHINE
MAIN FEATURES:
1. TYMC series hologram positioning computerized hot foil stamping machine integrates the functions of hot stamping, positioning, concave convex shaping in one time process. In addition, it can do die cutting work as well.
2. The display system adopts the touch screen, so it is easy to operate and the productivity is increased.
3. It adopts imported PLC internal micro computer to control 5 groups, drive the space separately, and the pace length is easy to regulate.
4. The temperature control has been divided into 5 individual heating zone for fast heating and electricity saving. Each temperature zone could keep constant temperature automatically and display the instant temperature degree, which improves the stamping quality.
MAIN SPECIFICATIONS:
| | |
| --- | --- |
| Max. inside chase size | 1100 × 800mm |
| Max. stamping size | 1100 × 800mm |
| Speed | 23±2sheets/min |
| Groups of feeding foil | 5 |
| Max. foil feeding length | 800mm |
| Leapfrog frequency | 0-99 |
| Adjustable temperature | 10-300íŠ |
| Zones individually heated | 5 |
| Heating capacity | 15 kw |
| Total power | 25.5 kw |
| Gross weight | 5000 kg |
| Dimensions(L×W×H) | 2520 × 2170 × 2200 mm |