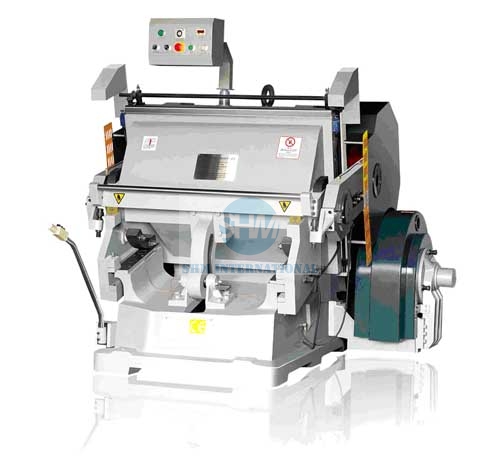 ML SERIES DIE CUTTING AND CREASING MACHINE
MAIN FEATURES:
1. High strength due to one piece casting by using top quality materials for machine body.
2. Smooth running, big pressure and low noise are obviously remarked as 3 step helical gear mechanism is adopted.
3. Single plate electromagmetic clutch is sensitive.
4. Operational alitude is reasonably arranged, moving bed opens to its optimum.
5. Electrical system is designed according to IEC standard.
6. It has the functions like cutting single piece by pressing, continual cutting by pressing, time lag after being turned on, with adjustable scope for time lag.
7. Reliable performance of the system of safety protection.
8. Concentrated lubricating system.
MAIN SPECIFICATIONS:
| | | | |
| --- | --- | --- | --- |
| Model | ML750 | ML1300 | ML1400 |
| Inner chase size | 750x520mm | 1300x920mm | 1400x1000mm |
| Rule length | Max.<1500mm | Max.<3800mm | Max.<3800mm |
| Power | 2.2kw | 7.5kw | 7.5kw |
| Weight | 2000kg | 6500kg | 7000kg |
| Dimension | 1540x1650x1650mm | 2050x2350x1900mm | 2050x2450x1900mm |
| | | | |
| --- | --- | --- | --- |
| Model | ML1500 | ML1600 | ML1800 |
| Inner chase size | 1500x1060mm | 1600x1250mm | 1800x1300mm |
| Rule length | Max.<4000mm | Max.<4300mm | Max.<5000mm |
| Power | 11kw | 11kw | 11kw |
| Weight | 8000kg | 12000kg | 14200kg |
| Dimension | 2050x2540x1900mm | 2300x2700x2400mm | 2300x2900x2400mm |
| | | |
| --- | --- | --- |
| Model | ML2000 | PYQ203HWX |
| Inner chase size | 2000x1400mm | 930x660mm |
| Rule length | Max.<5800mm | Max.<2600mm |
| Power | 15kw | 4kw |
| Weight | 16500kg | 3800kg |
| Dimension | 3500x2200x2400mm | 1960x1760x1720mm |
| | | |
| --- | --- | --- |
| Model | ML1100HWX | ML1200HWX |
| Inner chase size | 1100x800mm | 1200x820mm |
| Rule length | Max.<3000mm | Max.<3200mm |
| Power | 5.5kw | 5.5kw |
| Weight | 6500kg | 6000kg |
| Dimension | 2080x1950x1900mm | 2080x2050x1900mm |