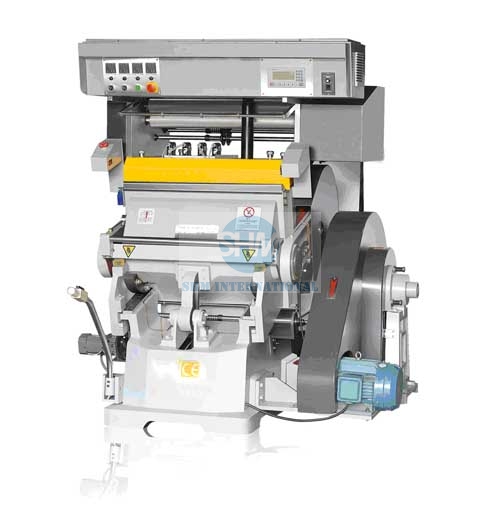 TYMC SERIES HOT STAMPING AND CUTTING MACHINE
MAIN FEATURES:
1. TYMC series of products have the function of shaping at-one-time of hot stamping, die-cut and sagging.
2. The display system adopts LCD touch screen and the operation is quick and the productivity is increased.
3. It adopts imported PCC internal microcomputer to control the skip-step function of two groups drive, 3 groups drive and independent drive and the pace length is easy to regulate.
4. Its temperature divides in 4 zones, 5 zones and the heating speed is high and it saves power and the temperature of every zone realize automatic thermostatic control and temperature display and thus increases the hot stamping quality.
MAIN SPECIFICATIONS:
| | | | |
| --- | --- | --- | --- |
| Model | TYMC750 | TYMC203 | TYMC1100 |
| Max. Plate Efficient Breadth | 750 x 520mm | 930 x 660mm | 1100 x 720mm |
| Max. Thermoprint | 750 x 520mm | 930 x 660mm | 1020 x 700mm |
| Fiol Drum Feeding number | 2 units | 3 units | 3 units |
| Max Feeding Length | 520mm | 660mm | 800mm |
| Leapfrogging Scope | 0-99 times | 0-99 times | 0-99 times |
| Power | 10.2kw | 16.5kw | 20.5kw |
| Weight | 2600kg | 4500kg | 6000kg |
| Machine Dimensions | 1540 x 1660 x 1970mm | 1960 x 1760 x 200mm | 2080 x 1950 x 2200mm |
| | | | |
| --- | --- | --- | --- |
| Model | TYMC1200 | TYMC1400 | |
| Max. Plate Efficient Breadth | 1200 x 820mm | 1400 x 1000mm | |
| Max. Thermoprint | 1200 x 820mm | 1400 x 1000mm | |
| Fiol Drum Feeding number | 3 units | 3 units | |
| Max Feeding Length | 820mm | 1000mm | |
| Leapfrogging Scope | 0-99 times | 0-99 times | |
| Power | 20.5kw | 28.5kw | |
| Weight | 6500kg | 7500kg | |
| Machine Dimensions | 2080 x 2050 x 2200mm | 2050 x 2450 x 2100mm | |