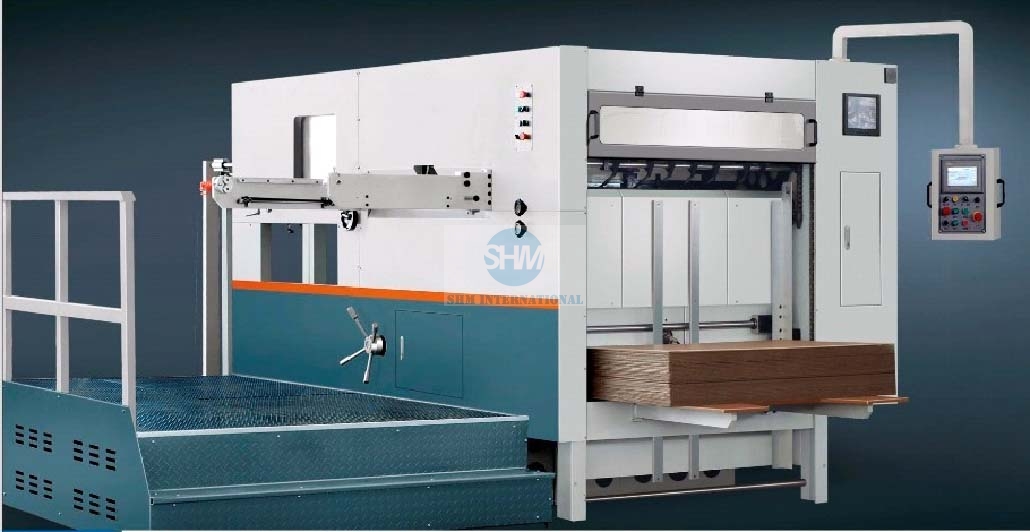 MH1300B/1500B/1650B SEMI AUTOMATIC DIE CUTTING AND CREASING MACHINE
MAIN FEATURES:
1. The machine is a special equipment for packing products such as cartons and paper boxes.
2. Gripper bars with high intensity are applicable to all kinds of cardboard, paperboard and corrugated paper.
3. Frontal, back and side registration mechanism ensures great precision of die-cutting.
4. Other parts are adopted such as intermittent mechanism with high precision, air clutch, pneumatic locking mechanism, programmable controller and man-machine interface.
5. The interface can display various digital information of machine such as working speed, amount of paper processed, total running time, etc.
6. It is easy to eliminate troubles according to the display of trouble shooting.
7. Transducer is adopted to control the main motor in achieving step-less speed variation.
MAIN SPECIFICATIONS:
| | | | |
| --- | --- | --- | --- |
| Model | 1300B | 1500B | 1650B |
| Max. paper size | 1290 x 940mm | 1500 x 1100mm | 1650 x 1210mm |
| Min. paper size | 550 x 480mm | 550 x 480mm | 650 x 550mm |
| Max. die-cutting size | 1280 x 930mm | 1490 x 1090mm | 1620 x 1190mm |
| Max die-cutting thickness | 7mm | 7mm | 7mm |
| Max. working speed | 4000(S/H) | 4000(s/h) | 3200(S/H) |
| Rated power | 13.5KW | 13.5KW | 19.7KW |
| Max. working pressure | 250T | 300T | 300T |
| Machine weight | 15T | 17T | 28T |
| Machine dimensions | 6050 x 3220 x 2085mm | 6270 x 3450 x 2150mm | 6610 x 3767 x 2270mm |