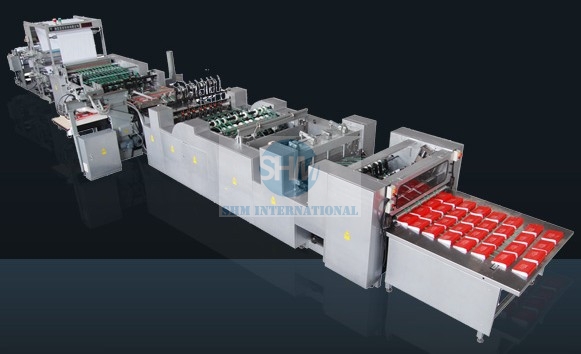 MACHINE RUNNING VIDEO:
LYRDT-930/1020 Exercise book line
INTRODUCTION:
1. LYRDT-930/1020 Exercise book line is a complete line for exercise book producing line. The line is including web unit, multi-color flexo printing unit, roll to sheet cross cutting unit, counting and stratifying unit, auto covering unit, wire stitching unit, folding unit, back planning unit and so on.
2. The line can finish the working process from paper roll to finished exercise book, it is an ideal machine for producing wire side stitching notebook.
3. The main key parts of this machine are imported from foreign specialist manufacturers, the electrical apparatus control system adopt the most advanced Fieldbus Control System and Non-axle servo control system.
4. The line can be designed up to the customer detailed requirement, increasing more feeding unit and printing unit, changing stitching unit and delivery unit and so on.
MAIN SPECIFICATIONS:
| | | |
| --- | --- | --- |
| Model | LYRDT930 | LYRDT1020 |
| Reel width | 680-930mm | 680-1020mm |
| Printing speed | 30-250m/min | 30-250m/min |
| Max working speed | 45 books/min | 45 books/min |
| Printing-cutting length | 300-670mm | 300-670mm |
| Cutting length | 250-450mm | 250-450mm |
| Counting and collecting | 6-50sheets | 6-50sheets |
| Binding size | 125-225mm | 125-225mm |