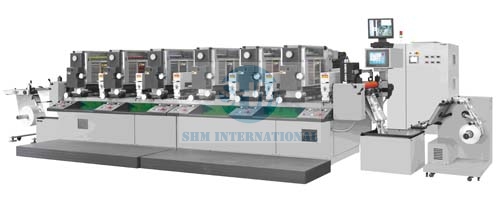 SMART-320 ROTARY & INTERMITTENT HIGH-SPEED LABEL PRESS
MAIN FEATURES:
1. Servo-control system achieves optimization control of machine, which assure high accuracy and stability for registration.
2. Creative front & back vacuum driving roller and ceramic roller in paper-feeding system saves extra substrate for removing rider wheels.
3. Special printing unit combined rotary letter press & intermittent printing; convert both functions easily on one machine.
4. Creative lateral & lineal registration system electrical controlled can be adjusted easily through the panel on printing unit or center control screen.
5. Creative ink distributing system avoids bar marking and ghosting, inks volume varies with printing speed automatically.
6. This machine is best one to print middle & top class labels in large, medium and small batch of production.
7. Indicate malfunction of machine on the center control screen to speed up the maintenance of machine.
MAIN SPECIFICATIONS:
Max web width

310mm

Max printing width

300mm

Printing repeat

intermittent 50-260mm;

rotary 174.6-304.8mm

Color

2-9 colors

Thickness of substrate

0.1-0.3mm

Machine speed

intermittent 250r/min;

rotary 75m/min

Max unwind diameter

700mm

Max rewind diameter

700mm

Total capacity

17.3kw (Not Including UV)