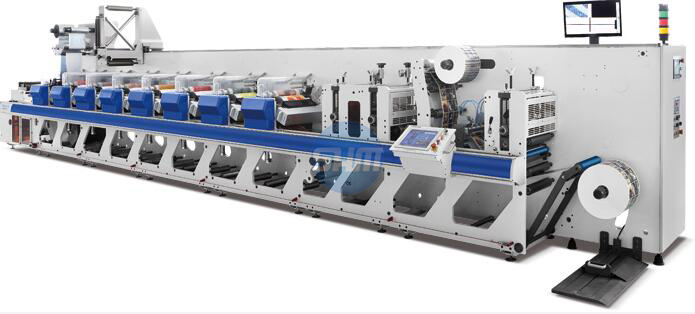 ZJR330 FLEXO PRINTING MACHINE
MAIN FEATURES:
1. The whole machine adopts the latest servo control system Rexroth-Bosch from Germany and each printing unit is driven by independent servo motor. There are 23 servo motors in total for 8color machine which ensure the accurate registration during high speed running.
2. The printing roller adopts sleeve system which is light, easy, convenient and fast to change. This type of design is largely improve the printing quality and reduce the maintenance
3. Fast and easy Pressure adjustment of printing or ink transferring: Printing roller run by bearer, it's not necessary to adjust the pressure when change the roller, or at most fine adjust for special job.
4. Anvil roller equips with water chiller, it's good for film material as well.
MAIN SPECIFICATIONS:

Max printing speed

180m/min

Printing color

4-12(Colors)

Max printing width

330mm

Max web width

340mm

Printing repeat length

Z76-190(241.3mm-603.25mm)

Max unwinding diameter

900mm

Max rewinding diameter

900mm

Dimension

10830 x 1560 x 1520mm

(for 8colors,3 die cutting stations)