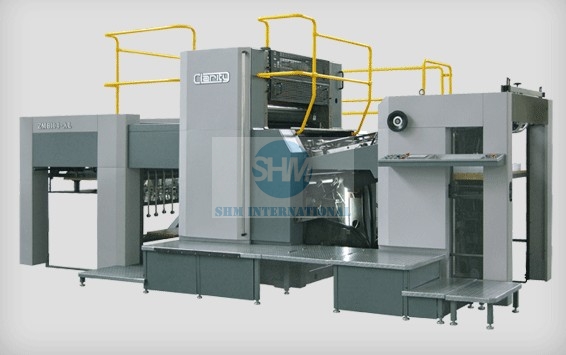 ZMB104-AL SHEET-FED OFFSET PERFECTOR
MAIN FEATURES:
1.
Double-row TRB (Tapered Roller Bearing) Equipped for All Cylinders
2.
Underside Feeding Swing Arm with Conjugate Cam; Underside Front Lay
3.
Separate Adjustable Plate Clamp for Quick Register Correction
4.
Accurate Electric Plate Locating Device
5.
5-roller Alcohol Dampening System; Patented Intermediate Roller of Stable Performance
6.
Straight-line Rail Guided Feeder Head With 4 Pick up and 4 Forwarding Suckers
7.
Centralized Control through Touch Screen
8.
Air Clutch for Cylinders and Rollers; Both Automatic and Manual Clutch Control Possible For Flexible Operation
9.
Gripping Force Adjustable For All Transfer Grippers
10.
Stainless Steel Sprayed Plate Cylinder
11.
Centralized Automatic Lubricating System
MAIN SPECIFICATIONS:
| | |
| --- | --- |
| Max sheet size | 720 × 1040mm |
| Min sheet size | 360 × 520mm |
| Max printing area | 710 × 1030mm |
| Plate size | 800 × 1040 × 0.3mm |
| Max printing speed | 10000sph |
| Sheet thickness | 0.04-0.20mm |
| Feeder stacking capacity | 1200mm |
| Delivery stacking capacity | 900mm |
| Machine power | 25kw |
| Weight | 16000kg |
| Dimension | 5720 × 3380 × 2750mm |