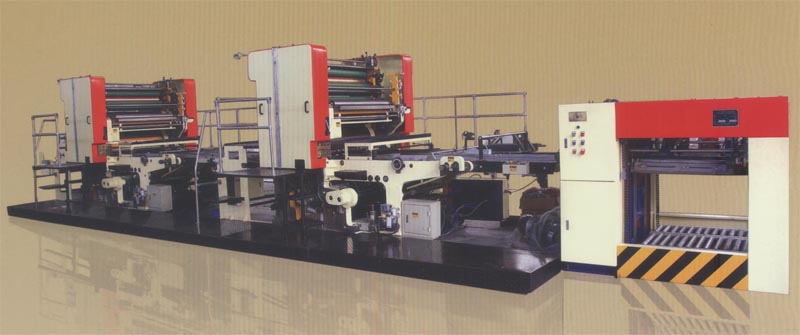 HYP45A-II Metal Printing Press
MAIN FEATURES:
1. This machine is for printing text and colored pattern on Tinplate surface of food can, drink can, aerosol can, daily chemical can, cover, box etc. The machine is composed of systems for feeding, printing, unloading, electro-automatic control, etc
2. The machine is shiftless driven, and all systems are PLC and servo controlled in synchronization in a high precise manner,
3. The construction is hard packed on cylinder to strengthen the halftone dots.
4. The plate and the blanket are quick-clamped to substantially shorten the time for the for the auxiliary work, resulting in high efficiency.
5. The pneumatic clutch is employed to facilitate the operation for the impression cylinder, plate cylinder, dampening roller, inking roller, dampening distributor, ink transfer roller, discharge carriage, excessive sheet remover.
6. Human-machine interface and good visualization allowing simple operation and easy to learn
MAIN SPECIFICATIONS:
| | |
| --- | --- |
| Max metal sheet size | 1145 x 950mm |
| Min metal sheet size | 712 x 510mm |
| Thickness of metal sheet | 0.15-0.5mm |
| Max printing area | 1135 x 945mm |
| PS plate size | 1168 x 1040 x 0.3mm |
| Blanket size | 1168 x 1100 x 1.9mm |
| Max printing speed | 5000p/h |
| Power | 15kW |
| Max stack weight | 2T |