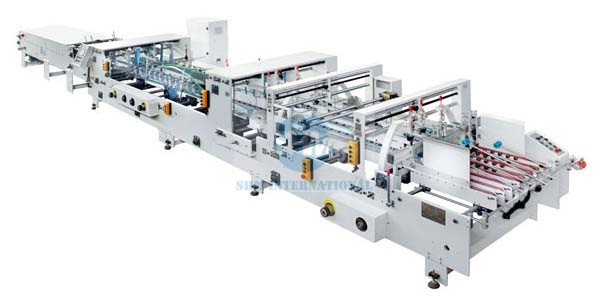 ZH-BFT SERIES FOLDER GLUER
MAIN FEATURES:
1. The machine adopts strengthened single-side driving system, for steady running and easy maintenance.
2. The motor is controlled by transducer, with automatic timing, stable running and energy efficiency.
3. Paper feeding is controled by several thick belts with vibration motor, which ensures feeding in continuous, exact and automatic.
4. Grinding equipment in both sides of machine makes gluing more stable and firm.
5. There are two groups of gluing bucket at up and down, and tooth rods adjustment at left and right. Easy to operate.
6. The machine adopts PLC touch screen by human interface control, remote diagnosis and maintenance system (remote controller system for optional), photoelectric to control speed in pressing part.
7. Delivery part is equipped with sponge pressing belts to ensure products perfect.
8. The machine can do 2-folding and 4-folding for bottom lock. In the pre-folding part, the first fold and the third fold can changed to 180°or 90°. The second fold and the fourth fold are molded in 180°. The special design is available.
9. Special design for special box like width at 30mm is available.
MAIN SPECIFICATIONS:
ZH-880BFT

ZH-1200BFT

ZH-1400BFT

ZH-1600BFT

ZH-1800BFT

Speed

200m/min

Suitable paper

200-450g

260-700g

350-800g

Power

6.7kW

9kW

13.2kW

17.2kW

22kW

Weight

3200kg

4600kg

5300kg

6200kg

7000kg

Dimension

9x1.1x1.2M

12x1.5x1.5M

13x1.7x1.5M

13x2.1x1.5M

15x2.3x1.6M