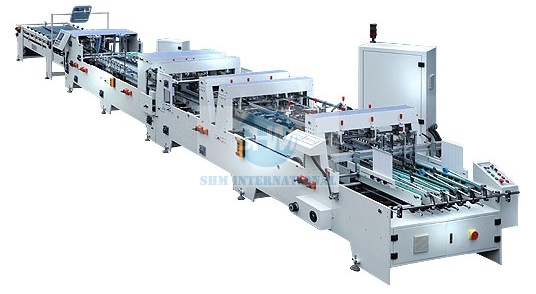 ZH-1200 BFST 4/6 Corner Folder Gluer
MAIN FEATURES:
1. The machine adopts strengthened single-side driving system, for steady running and easy maintenance.
2. The motor adopts infinitely variable speed drive with power saving.
3. The machine adopts double face tooth rod for operation. Up and down linkage makes adjustment in place, precise and rapid.
4. Delivery equips several thick belts with shaking motor to ensure paper feeding in continuous, exact and automatic.
5. It has a grinder in each side, which makes the glue more stable, firmly.
6. It offers two groups of gluing bucket up and down for vertical adjustment, while teeth rods for horizontal adjustment.
7. It equips touch screen, PLC controller, photo-electric counting, automatic sheet kicker.
8. Conveyor part is equipped with sponge belt.
9. In the pre-folding part, the firs fold and the third fold can be exchanged by 180 degree or 90 degree. The second fold and the fourth fold can be molded in 180 degree; the special design is also available.
MAIN SPECIFICATIONS:
| | |
| --- | --- |
| Line speed | 200m/min |
| Suitable paper | 350-800 g/ms, paperboard |
| Box forming | 4/6corner box, bottom-lock, straight line box, double walls box |
| Fold method | 1st & 3rd folds 90°, 2nd & 4th folds 180° |
| Electric Power | 13.2 kW |
| Dimension | 12.1 x 1.5 x 1.5M |
| Weight | 5100 kg |